I have finished one big step in getting settled into our new place. Step One: get online. Though I'm certain I don't need a 12-port patch panel for this two-bedroom house, I've gone and wired it so anyway. I've put up a four port Linksys Gigabit router/switch, Cat 6 patch panel (with Cat 5e cable (can't have everything all at once)), cable modem with 8 megabit cable (6712kbps down, 2488kbps up(http://bluefield.speedtest.frontiernet.net/)), Cat 6 keystone jacks and one Airport Express for the laptop. Here's a picture of the closet: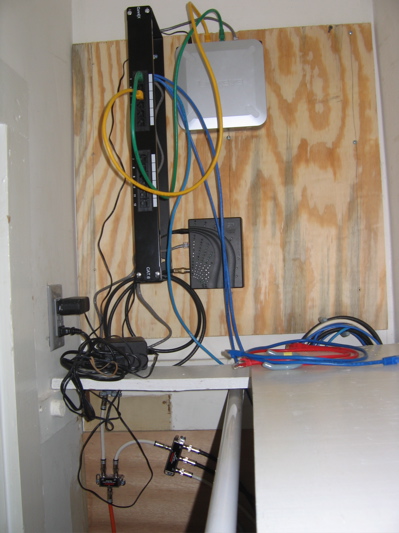 I could not have done this without the training I received from Logan Gray at IntenseTech, and the good folks at Catskill Supply, my Uncle Tom, my Dad (one day he'll work on his site), Tess for letting me kick her out of her bedroom while I made a mess in the closet, and Tam for keeping the house going and helping me yank cable. I can't wait to get the rest of the computers over here so that I might smite my friends on ET!
All of this is to say that I'm back up and running in high style. Once I get the computers over here, I'll be working on the GHP '06 video at long last. I'll also be installing a server for ActiveCollab and Zimbra purposes. Fun.