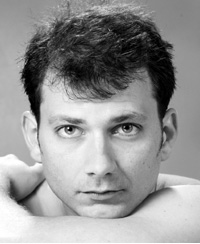 James Benjamin Westafer
Address available on request. (cell)706.231.9833
AOL IM hermes369
benjie@westafer.com
Photo courtesy of Jeff Cravotta Photography
bBio.rtf (8k)
Frankie Levy, Executive Director of the Georgia Dance Theatre, introduced Benjamin Westafer to ballet when he was three years old. At nine he began training with Ron Colton. He continued training with the Central Pennsylvania Youth Ballet, School of American Ballet, Joffrey School, and graduated from the North Carolina School of the Arts. Benjamin has danced as a soloist with International Ballet Rotaru, Sacramento Ballet, Ballet Arizona, Chautauqua Ballet Company, and North Carolina Dance Theatre.
He has had the honor of dancing soloist roles in works by George Balanchine, Paul Taylor, David Parsons, Nacho Duarto, and Sal Aiello. Choreographers Alonzo King, Peter Pucci, Jean-Pierre Bonnefoux, Mark Diamond, Graham Lustig, José Mateo, Heather Maloy, and Tom Pazik have featured him in world premiers.
A founding member of Terpsicorps Théâtre of Dance, Benjamin has appeared as a principal and soloist around the Southeast with companies including The Moving Poets Theatre of Dance, Georgia Dance Conservatory, Southern Ballet Theatre, and Savannah Ballet Theatre.
Benjamin served as the Department Chair of Dance for Georgia's Governor's Honors Program in Valdosta, GA from 2004 — 2006 and served as Ballet Master for Savannah Ballet Theatre. Until the pandemic, Benjamin taught for the Cutno Dance Center where he choreographed and staged divertissement and Snow. He guest taught at the Don't Forget to Dance workshop in Sandnes, Norway.
Benjamin looks forward to choreographing divertissment and setting "Snow," for Cutno Dance Center's "Nutcracker in the South," and appearing in his 40th consecutive "Nutcracker," when he performs with Carolina Ballet Theatre in Greenville, SC.
*The material contained within may be modified and/or edited to suit your needs upon approval from me.